.
So you've gotten your hands on a new Google Chromecast. Good for you. All you have to do is plug it right into a TV's HDMI port and start streaming. Well, you need to plug in an external microUSB cable for power first. It can plug into the wall, or a TV USB port. If your TV shields the Chromecast from an already weak WiFi signal, the HDMI extender might help by setting the device several inches back from the TV. It becomes a little less sleek when you actually use it. This is still less setup than virtually all the electronics you buy, but it's not as streamlined as the press images might make you think.
It's been reported in various places that the Chromecast can be powered by HDMI 1.4, but I haven't found any official source that confirms that. Simply supporting HDMI 1.4 doesn't mean it can be powered by it. Indeed, some people that have dug into the device have found that the Chromecast pulls too much current to get it from an HDMI port. Straight HDMI 1.4 can output 50mA, while MHL-HDMI ports (which are still very uncommon) can offer up 500mA. Neither can handle the Chromecast at load. So you're stuck with that USB cable.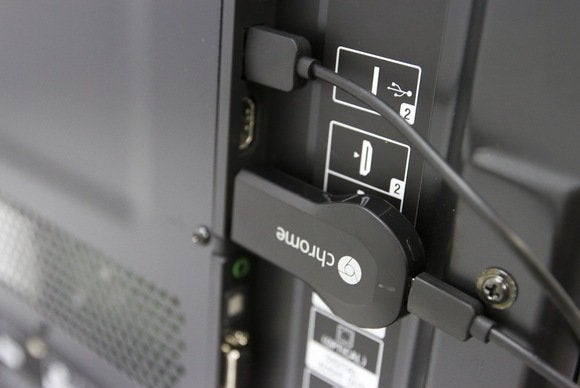 Once it's powered, the Chromecast will boot up almost instantly and ask to be set up via a web URL or the Android app. The website will install a program on your computer to run through the setup process, but it's almost identical to what you'd do on Android, which probably how most users will go about it.
The app searches out Chromecasts on the network and lists them at the top. If there is one that has not been configured, or was reset, the app offers to set it up. The TV will display a short alphanumeric code after they are paired. This is done to ensure you're connecting to the Chromecast you think you're connecting to. Is Google maybe being a little optimistic that people are going to have enough Chromecasts in their homes to get confused about which one is which? Maybe, but it's nice they thought ahead.
The Chromecast itself has no UI you can interact with. All the setup and (eventually) input happens on another device. The app (or desktop program) is used to tell the device which network to connect to, and what the password is.
On a home network, or anything running standard WiFi security, the process is mostly painless. The Chromecast is a little daft, though. On dual-band routers, it will try to hop on a 5GHz network if that's what your phone/tablet is on, even though it doesn't support 5GHz. You'll have to switch it over to 2.4GHz manually, but if the SSIDs are different the app will warn you the phone or tablet won't be able to communicate with the Chromecast. That's not the case with dual-band routers, but the app pitches a fit and tries to switch the Android device over to the other network.
Just forge ahead and it should connect, but a few failures are common (at least in my testing). Once the Chromecast is connected, it seems to stay that way. Signal strength is good, but we know some owners have been having issues. There may be some questionable units in this first batch.
.